4.90% APR VISA Balance Transfer Offer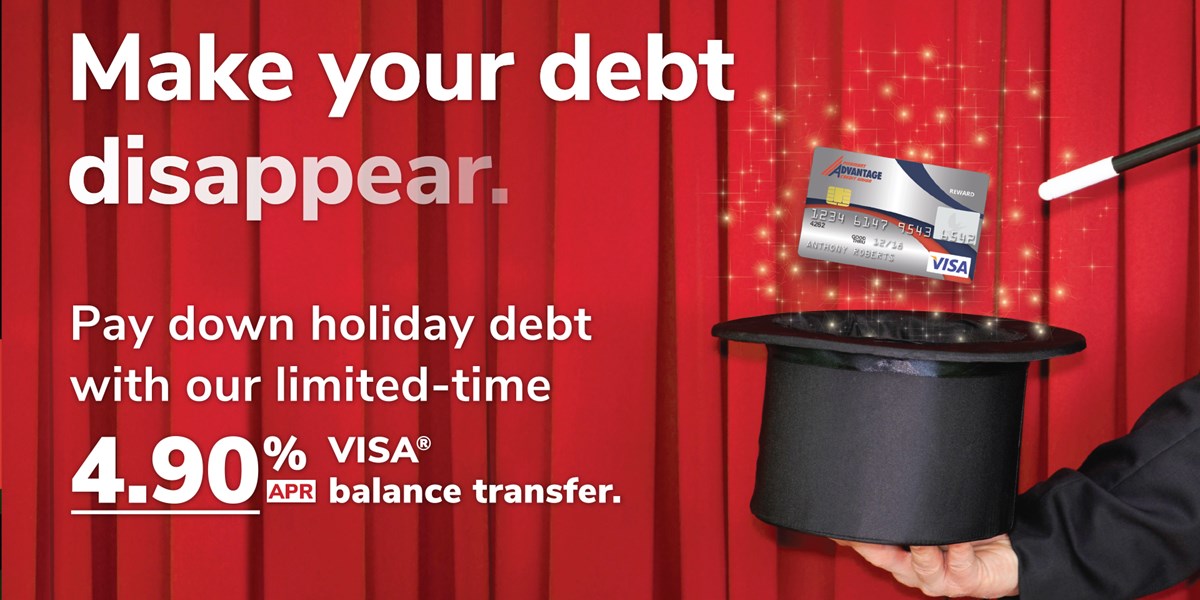 Have holiday bells turned into holiday bills?
We've been there. Just be sure you're not paying a high interest rate. Piedmont Advantage offers a hassle-free way to reduce debt that will keep you feeling merry all year long!
For a limited time, receive a special low rate (and no fees!) on balance transfers! Transfer high rate card balances to your Piedmont Advantage VISA® Platinum or Platinum Rewards card between 1/2/2019 and 3/31/2019 and you'll enjoy a low, non-variable 4.90% APR* until January 2020!
Get Started Now!
Stop by your local branch, give us a call at 800-433-7228 or fill out the Balance Transfer Request form and fax it to 336-744-8896.
Don't have a VISA?
*Finance charges on balances transferred to one's Piedmont Advantage Platinum or Platinum Rewards Visa card between 1/2/19 and 3/31/19 will be calculated at a non-variable 4.90% APR (Annual Percentage Rate) until 1/1/2020. After that, finance charges will be calculated using the cardholder's risk-based APR disclosed at account opening. To be eligible for this offer, one must be a Piedmont Advantage member in good standing and transfer a minimum of $500. Terms and conditions subject to creditworthiness and are subject to change without notice. Existing Piedmont Advantage line or loan balances not eligible for this offer. The credit union reserves the right to decline any balance transfer request and it is not responsible for charges assessed by other creditors. Refer to Piedmont Advantage's Credit Card Disclosure Statement for more information.