Access your accounts, wherever you are, with any device. Now, that's easy. Connect with us via Facebook, Instagram and LinkedIn to stay current with solutions that may be valuable to you.
We're always pleased when you drop by one of our branches to handle financial matters. But at Piedmont Advantage, we understand how valuable your time is. That's why we offer a suite of free, user-friendly apps and online banking services that give you the power to access your accounts any hour of the day or night. Check balances at dawn, pay bills at midnight, deposit checks before you head home from work. All it takes is your smart phone or another connected device, and a few minutes of free time. And know, no matter where you are, we are always here to assist you.
Advantage Access Online Banking
Access your account info 24/7
Transfer cash between accounts
Make loan payments
View balances and recent transactions
Pay bills electronically and view monthly eStatements
Send us secure messages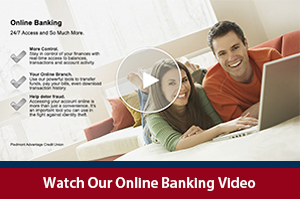 Advantage Access Mobile App
Access your account info 24/7
Deposit checks with your smartphone by taking photos of the front and back
Transfer cash between accounts
Make loan payments
View balances and recent transactions
View secure monthly eStatements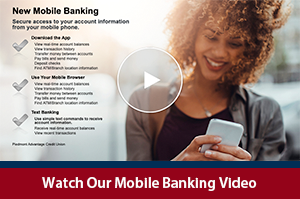 Pop Money 
What is Popmoney?
Popmoney is an innovative personal payment service offered by leading financial institutions that eliminates the hassles of checks and cash. Now, sending and receiving money is as easy as emailing and texting. And you don't need a new account to send or receive money. Just use your current bank/financial institution account.
How does Popmoney work?
Sending Money
To send money, log in to your online banking account and look for Popmoney.
Send money to anyone using their email address or account information.
You will be notified when the transaction is completed.
Receiving Money
When someone sends money to you, you will receive an email or text message.
If your financial institution offers Popmoney, you can log in to your account and direct the funds there. If your financial institution does not offer Popmoney, you can provide your account information at Popmoney.com, and your money will be sent to that account.
If you do not provide your account information, the payment will be automatically returned to the sender's account.
Money sent directly to an account will be automatically deposited. No action is required by the recipient.
What can I use Popmoney for?
Popmoney is easy and convenient for you and the people you send money to. They can simply receive the money into their bank account online.
The following are just a few of the convenient ways that you can use Popmoney:
Send money to your child at college
Send a gift to family and friends
Reimburse friends for that fun outing
Pay your babysitter or your lawn care service
Pay rent to your landlord or roommates
Will my account information be shared with the recipient?
No, your account information will not be shared with the recipient. The recipient will only see your first name, last name, and the message you wrote for the payment. When you send a payment to an email address, the recipient will also see your email address. Similarly, you will not be able to see the recipient's account information.
Do I need to verify my email address and phone number?
Verification of your email address and phone number may be required for security reasons. Entering the correct verification codes ensures that you have access to your email and phone. You may also be asked to verify your mobile phone in the future to send and receive payments.
Bill Pay
Save time and mailing costs by paying bills electronically
Schedule recurring payments or enter each monthly payment manually
No fee and no limit to how many bills you can pay
E-Statements
Sign up for e-Statements and reduce clutter in your home and office
E-Statements are more secure than paper statements
Get timely reports listing account balances and transactions
View e-Statements through Access Online Banking and our Mobile App
Access statements from previous months as a budgeting tool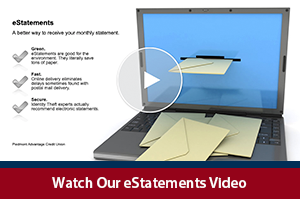 Text Banking
Receive account balances and transaction history via text message.
Sign up through Advantage Access Online Banking
Account Alerts
Set up notifications when certain events occur on your account
Notifications can be sent via text message, email or Online Banking
Receive alerts anytime your have low account balances, purchases over a certain dollar amount or deposit over a certain amount.

Have a question? View our FAQs, call us at 800-433-7228 or email us at callcenterteam@pacu.com. Contact us 24/7 on Facebook, Instagram and LinkedIn!
Security Is A Priority
At Piedmont Advantage, we use the most secure, cutting-edge monitoring to provide you with peace of mind that your money is safe and secure.
Resources
Find an affordable car insurance solution for you and your family.