Debit Card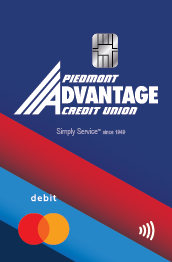 Use your Piedmont Advantage Debit Mastercard

® with confidence for all your daily transactions needs! 

Everyone needs to enjoy the benefits of convenience, uninterrupted account access, and security when using your debit card for everyday use.  At Piedmont Advantage, we want to extend the same benefits and security members experience through our credit card program and offer those on our debit/ATM card program as well.  You will enjoy worldwide buying power, along with cash access at one of our North Carolina ATMs and 30,000+ surcharge-free ATMs in the CO-OP Shared Network across the country.  
Benefits Also Include:
Chip Technology

improves the global usability and security of the card as more merchants at home and abroad switch to advanced chip card terminals.

Zero Liability

means cardmember(s) won't be held liable if their card is used for purchases without their permission. Some conditions and exceptions apply. For full details, visit www.mastercard.us/zero-liability.

Extended Warranty

doubles most manufacturer or U.S. store brand warranties for up to one additional year.

Mastercard ID Theft ProtectionTM

provides cardmember(s) with access to a number of Identity Theft resolution services, should they believe they are a victim of Identity Theft.

Satisfaction Guarantee

can provide a refund of up to $250 if the cardmember is dissatisfied with a purchase and the merchant will not accept a return within 60 days of the purchase date.

Mastercard Global ServiceTM

provides 24 hour a day, seven day a week assistance with lost and stolen card reporting, emergency card replacement, emergency cash advance, as well as assistance with locating ATMs.

Mastercard Airport ConciergeTM

provides a Meet and Greet agent to assist with flight connections plus, at select airports, expedited security/immigration processing.

Priceless Cities Offers & Experiences

offers unique access and special experiences so cardmember(s) can enjoy more of the cities they love.
Have you opened a PACU Checking Account yet?
At Piedmont Advantage we think checking account options should be simple and straight-forward.  Whether you like earning more in interest, having no monthly fees, or having the most services for your money, we have the right checking account for you.
For more information or to APPLY click below.
Have questions about our Checking Accounts?  Stop by your local branch or give us a call at 800-433-7228.
1.  Certain restrictions apply.  See www.mastercard.us/zero-liability for details.
2.  Certain restrictions apply.  For details, see the Guide to Benefits.  Benefits are subject to terms, conditions, and limitations, including limitations on the amount of coverage.  Coverage is provided by New Hampshire Insurance Company, an AIG company, or Warranty Guard, an AIG company for price protection and Satisfaction Guarantee, or Federal Insurance Company for Travel Accident, and Emergency Medical.  All benefits except Travel Accident provide secondary coverage only.
At Piedmont Advantage, we also offer Digital Wallet.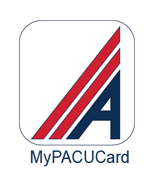 Offers you the most popular card management features the financial industry has to offer!
Access your account using biometric log-in capabilities for convenience and security.
View up to a 90-day transaction history.
Schedule and confirm payments to your card balance from your checking or savings.
Lock and Unlock card usage from your mobile device.
Submit travel notifications.