At Piedmont Advantage Credit Union, we believe our sole purpose is to simply serve our members. It is not a gimmick, a tagline or catch phrase. Rather, it is reaffirming that members come first. 
Simply Service™ is in our culture and embedded in everything that we say and do to partner with our member-owners to help them each step of the way of their financial journey. Becoming a member of Piedmont Advantage is easy. Even better, once you have become a member, your membership doesn't expire, even if you leave the area. 
If you live, work, worship or attend school in Bladen, Brunswick, Columbus, Cumberland, Duplin, Forsyth, Guilford, Iredell, Mecklenburg, New Hanover, Pender or Rockingham County in North Carolina or employed by one of our many employer companies, you can join.
Reap the benefits of membership today by opening your Share Savings Account with just $5.
Join online or stop by one of our 10 Piedmont Advantage Credit Union branch locations for one-on-one personal service.
Like so many of our new members, you may wonder what is the difference between a credit union and bank.
In general, credit unions are not-for-profit organizations and owned by their members whereas banks have stockholders. A bank's goal is to make a profit for its stockholders. A credit union's goal is to serve its member-owners, so when a credit union earns a profit, the profit is given back to the members in the form of low-interest rates on loans and higher earnings on savings. There are other differences as the following illustration demonstrates: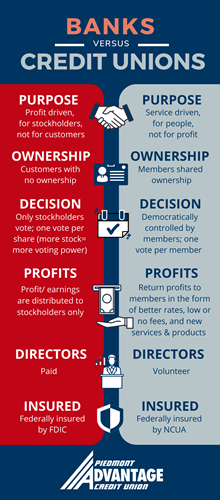 For additional information, please review our Membership Account Agreementor Contact Us to get started or answer your questions.