3 Tips to Lower Your Grocery Shopping Budget When Prices are Going Up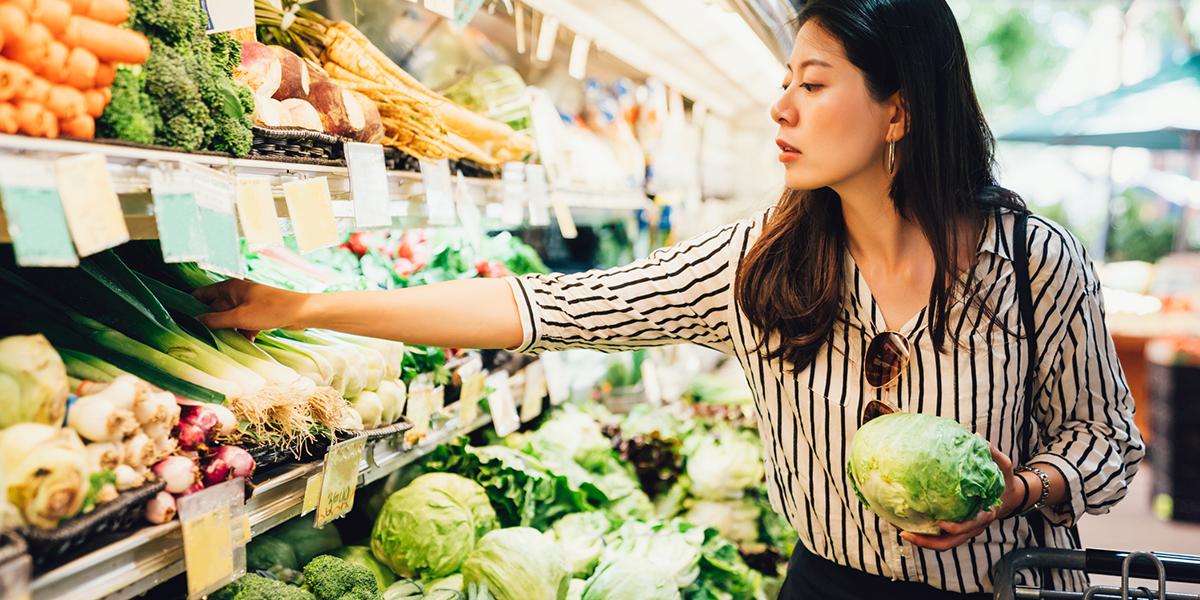 With the price of food (and nearly everything else) going up, it's becoming harder to grocery shop without spending a fortune. Overall, food prices have been steadily increasing and are expected to rise 1-2% over the next year, according to the U.S. Department of Agriculture. To help you get the most out of your grocery shopping budget, Piedmont Advantage Credit Union has rounded up three tips to make your trips to the grocery store a little more affordable, while still keeping your stomach happy.
1. Start a Grocery Shopping Budget
Before creating a grocery budget, make note of what you are currently spending on food over one month. This could be done by saving receipts from the grocery store and any restaurants where you ate, or by ­­­using a money management app. The idea is to establish a baseline to work from. Then, compare what you're spending to the average figures reported by the USDA's moderate-cost plans for reference:
Grocery Budget for 2: $609 per month
Grocery Budget for 4: $854 to $1166.00 per month
Of course, this varies from family to family as well as by region, but it will help keep you on track to establish a target budget for the month and break this down by the number of trips you make. To see how much of your household budget is going toward food, use our home budget calculator. Recommend spending is between 9-14% of your take-home pay or net income.
2. Meal Planning
Meal planning doesn't need to be a chore. Simply outline the types of meals you'd like to make over the next few weeks and find themes of ingredients to work up an effective, budget-friendly meal plan. For example, if you want to make chicken on the grill one night, throw on one extra chicken breast and use it for protein in your salad the next day. Items you buy for your salad can easily be turned into taco toppings the next night. Or, if you buy ground beef for tacos, you can use leftover meat to grill hamburgers (with lettuce and tomato from your salad) or a meat sauce for a lasagna. Building a list with a rough idea of the meals you are planning for the next week or two can help narrow down the ingredients you need to pick up. Doing this will save both time and money. And, if you prefer technology to help you out, there are a lot of great meal planning apps to make this a lot easier.
Another benefit of meal planning is that by preparing a variety of meals, you can reduce the temptation to dine out. Try to set a limit on the number of meals you eat out per month and stick to that limit.
3. Shop Smarter
Grocery stores are set up to entice you to spend more money. From the organization of the store (with the most expensive products on the perimeter) to pricing and marketing tricks, sticking to your grocery budget can be a challenge. To avoid hefty grocery bills, here are a few tricks of your own to use on your next trip to the supermarket:
Try generic brands. Generic or store brand items are on average 15-30% lower in price, and for the most part, contain the same ingredients, taste the same and are even manufactured at the same location. If generic packaging bothers you, place your food in a storage container when you get home, which can actually extend its lifespan.
Be careful with coupons. Avoid the trap of buying items solely because you have a coupon. That can quickly derail your grocery shopping budget quickly and you'll end up with more food than you'll actually use in your cabinets. There are several websites that match up coupons and sales, and some grocery stores are also developing digital coupons through their own apps, which can help you find relevant deals on food and products you actually buy.
Avoid buying things you won't use because they are on sale. It's always good to stock up on things that are on sale, if you use them before they go bad. There is no sense in spending money on foods that will take up space simply because they were on sale. To be sure you're using up what you have before buying more, clean out your fridge and cabinets every few months.
Take the time to comparison shop. There are alternatives to flipping through flyers in order to comparison shop. Apps and websites for markets in North Carolina, like Aldi and Bi-Lo, can help keep your household budget in check.
Adjusting or setting up your household's grocery budget can be a great way to save more money each month. Crunch your own numbers using our savings calculator to see how much your savings could add up. And if you want to get some more personalized advice, contact Piedmont Advantage Credit Union to chat.