Tips on Holiday Spending for a Merrier Season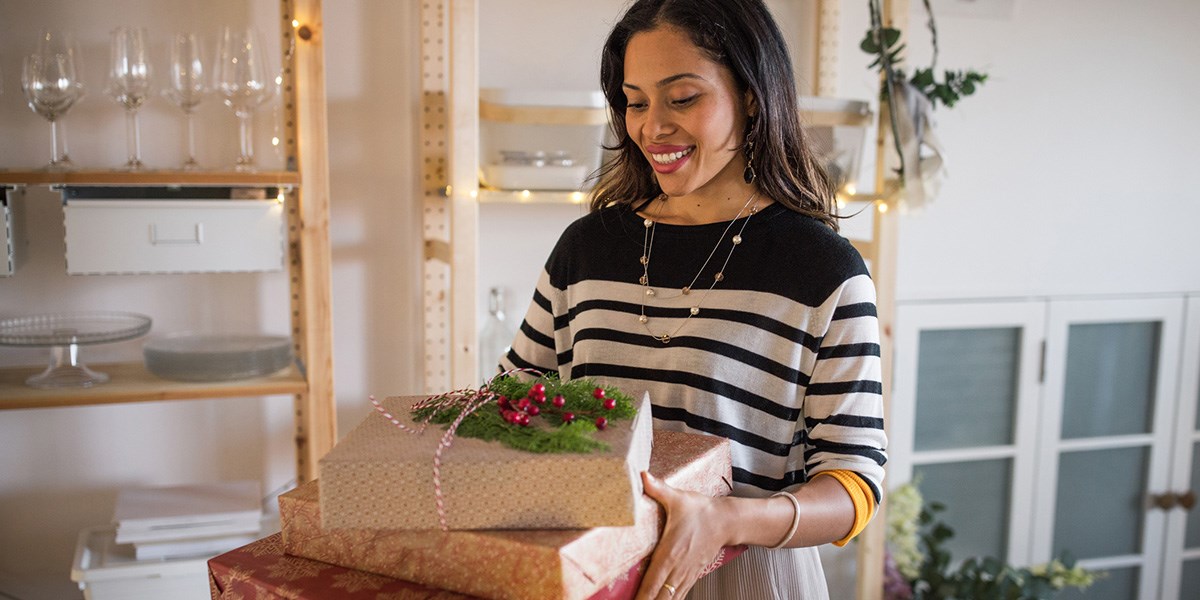 Tips on Holiday Spending for a Merrier Season
Once upon a time, some clever person decided to decode the "Twelve Days of Christmas" and figure out how much it might cost to procure the turtle doves, golden rings and leaping lords as gifts for a loved one.
This computation has turned into an annual tradition. These days, the estimated price tag is 40 grand. The point? The winter holiday season can be extremely expensive. The answer? Use some smart strategies to save some money.
We're not about to go full-tilt Scrooge here. No one is suggesting that you leave your friends and loved ones empty-handed. But you can cut back without cutting out the fun. How? Let's start with these ideas. There are 12 of them. Of course.
Like Santa, Make A List: Some consumer gurus say you should limit your holiday spending to 1.5% of your annual income. If you earn $100,000, that means you have $1,500 to work with for gifts, parties, travel and special meals. So how do you divvy up the funds? When it comes to gifts, list the people you're buying for and decide your price limit for each. Carry the list with you when you go shopping. And stick to it. This old-school strategy will help reduce the urge to make impulse buys you can't afford.
Plan Ahead. Way Ahead. Make holiday planning a year-round effort. Start by opening a separate savings account for your Christmas, Hanukkah or Kwanza budget. Then, faithfully make deposits during the year's first 10 months. By the time those holiday tunes are jingling non-stop inside your favorite stores, you'll have a nice stash of cash for present purchases.
Choose the Right Card. No, not the traditional holiday cards that tell of "Peace on Earth." We're talking credit cards. This time of year, it helps to have one in your wallet that offers rewards, such as our Visa ScoreCard Rewards, or a low rate, such as our Piedmont Advantage Platinum or Platinum Rewards Visa cards with a 3.90% intro rate. These cards can help you save enough to keep yourself under budget – and maybe get a head start on next year's holiday savings.
Card Choice No. 2: So you know exactly what gadget your nephew, niece or other family member wants. But, you can't afford it. Time to turn to Plan B – giving money. A classy way to do that is with a gift card you can purchase at your nearest PACU branch. You choose the amount that fits your budget and the joyful recipient chooses how to use it.
Dig for Deals: Sure, newspapers are so 1985, but during the holiday season they are stuffed with advertising inserts that can alert you to be best deals on gift items. Not eager to go paging through newsprint? Go online in search of coupons and codes that can earn you discounts on popular products.
Avoid the Crowded Mall. And shop online. In addition to getting access to special sales, you won't spend precious dollars on gas, parking fees and, potentially, babysitting costs.
Timing Can Be Everything. Millions of shoppers rush to stores the day after Thanksgiving for Black Friday deals. But sometimes patience pays off. Consumer research indicates that many retailers drop prices on a wide range of items – from shoes and tools to video games and laptops – in the last two weeks before Christmas.
Think Outside the Box. Gifts don't have to be big to be meaningful. Make a modest donation to a favorite charity in someone's name. Make a "gift offer" to perform free childcare, lawn care or other chores. Use your crafty nature to make a personalized present as a special gift. And the way to almost anyone's heart is through the stomach; home-baked cookies or other delectable foods always make great gifts.
Secrets are Good. Have a big family? Maybe it's time to stop having everyone buy a present for everyone else. Borrow an idea from your kid's grade school and go the Secret Santa route. Put names on slips of paper and have everyone pick one out. With only one gift to buy, you can put more thought into it and make it more special.
Party Time. Hosting a holiday party? You don't have to go broke while spreading the holiday cheer. Get your guests in on the act by making the affair a potluck where everyone contributes a favorite dish or dessert.
 Have Fun by Doing Good. Maybe skip the party altogether and organize a holiday gathering in which your gang spends time volunteering for an organization that helps those in need. The good feeling that comes from that sort of esprit de corps can linger a lot longer than a one-night celebration.
 Travel Smart. Sure, plane tickets sell for premium prices near the holidays. But there are still ways to cut costs. Pack light to avoid charges for extra baggage. Stock a backpack with snacks to avoid paying outrageous airport food prices. Find online discounts for airport parking. Or take a rideshare and avoid parking fees altogether.
But don't let potential inconveniences stop you from going to visit friends and family. After all, the best part about the holiday season isn't buying big gifts or spending lots of money. It's basking in the glow of the people you love and cherish.