PIEDMONT ADVANTAGE INVESTS IN THE FUTURE OF DAVIE COUNTY with Sponsorship of the New COGNITION Interactive Learning Center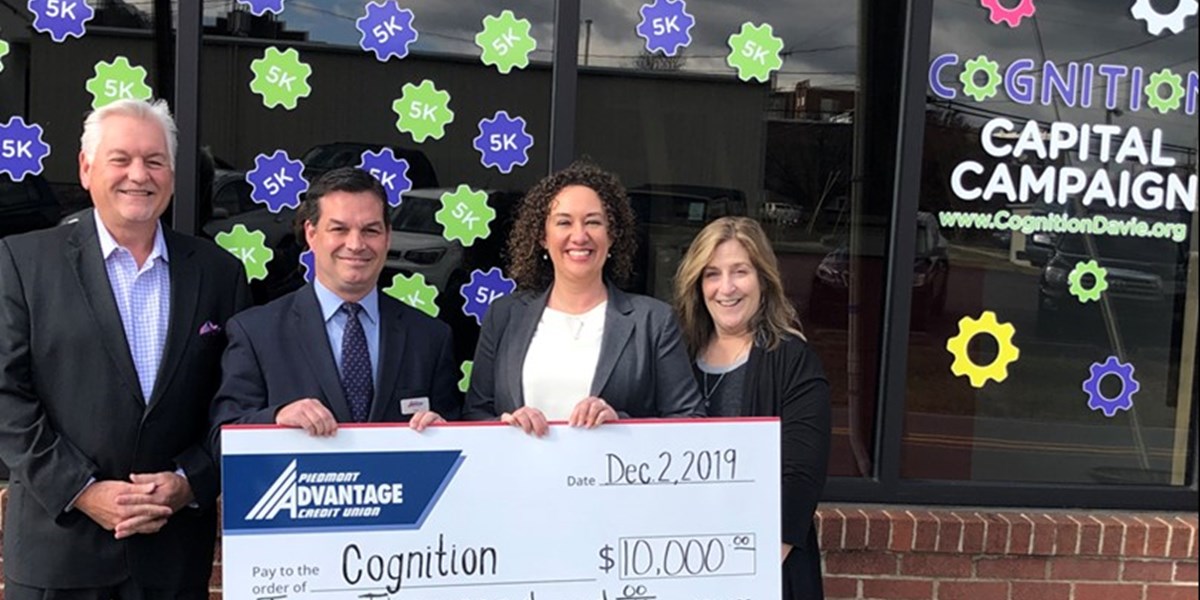 From L-R: PACU Board Member Steve Gilliland; PACU Chief Executive Officer and President Dion Williams; COGNITION of Davie County, Inc. Executive Director Jessica Scott; PACU Chief Marketing Officer Linda Garboczi.
Winston-Salem, NC (December 5, 2019) – COGNITION, Davie County's newest community-driven, interactive learning center received a $10,000 sponsorship from Piedmont Advantage Credit Union to assist with the mission of creating an interactive space for children, families, and the community to acquire knowledge through adventurous play, investigative learning, and creative growth.

"This investment represents the credit union's commitment to the local communities in which our member owners live and work. COGNITION is unique in that it is designed to benefit people of all ages. We are honored and proud to support this initiative," stated Dion Williams, President / CEO of Piedmont Advantage.
"COGNITION is a community resource for learners of all ages to play, tinker, create, and explore.  Whether it's building a robot, taking a painting class, or learning where our food comes from—COGNITION  truly offers something for everyone.  What adults see as unstructured play in children is actually critically important development for cognitive, physical, social, and emotional well-being.  And unstructured play is just as important for adults.  Whether it's sharing your favorite hobby with the community, or just taking a class to learn something new — COGNITION is just as much fun for adults as it is for kids," says COGNITION Executive Director, Jessica Scott.  The downstairs Makerspace will be available for visitors from age 10 to 100, where they can tinker and problem-solve to their heart's content. Classes, workshops, open time, summer camps and more will be offered for both youth and adult learners. There will be lots of space for questioning, experimenting, and problem-solving through the arts and sciences, personal financial wellness, computer coding, 3-D printing and much more.
About Piedmont Advantage Credit Union:
Piedmont Advantage Credit Union is a Member-owned, not-for-profit financial institution. Headquartered in Winston-Salem, NC, Piedmont Advantage Credit Union provides financial solutions for members to make their dreams come true while promoting the financial well-being of members, and the communities they live. PACU.com | #LinkedIn |
About COGNITION:
COGNITION of Davie County, Inc. is a 5,000 ft2 space in downtown Mocksville that equips learners with enthusiasm for STEAM concepts (Science/Technology/Engineering/Arts/Math) and helps facilitate a qualified workforce for the community.  COGNITION strives to be a community-driven, interactive space that promotes exploration, learning, and innovation with the goal of investing in current and future generations.  Learn more at www.cognitiondavie.org