Piedmont Advantage Credit Union (PACU) continues to focus on the health and wellness of our members and employees amid the growing concerns of the coronavirus (COVID-19). We continue to monitor the latest reports from the Centers for Disease Control (CDC) as well as guidance from national, state and local authorities. We have implemented precautionary measures to ensure the safety of our members, employees and neighbors. Furthermore, we are prepared to implement additional measures in a changing environment to maintain that safety. Read more.
Experiencing hardship? We are here for you.
To our members in the aviation community and all 200+ employee groups and members we serve throughout the world, we are here to help if you are experiencing hardship or financial difficulties resulting from COVID-19. Please reach out via email, callcenterteam@pacu.com, or by phone, 800-433-7228, to discuss your needs. Whether you have an existing loan or have a need for a new loan during this time, we welcome the opportunity to assist and meet the needs of your individual situation.
Use of Services 
While our branches currently remain open to serve our members in a limited capacity, PACU has many different ways for you to access your accounts while adhering to social distancing. For convenience and 24/7 availability, we offer the following options for you to manage your finances. 
Online and Mobile Banking

The Advantage Access Online and Advantage Access Mobile App are available to securely perform transactions from your computer, tablet and mobile devices. You can check balances, transfer funds and make payments. With our mobile app, you can even deposit checks.
Stay in the know with what's going on at PACU by making sure all of your contact information is up to date. Click here to login to Advantage Access Online and review your information.
If you need any help using these services, please refer to the tutorial videos in the "Other Resources" sidebar. 
Free Credit Reports
Due to all the uncertainty that COVID-19 has created, Experian is now offering free weekly credit reports to all Americans. Click here to access your free credit report. 
Branch Locations
All branch lobbies will open OCTOBER 19, 2020, with a limit to the number of members inside at one time.  These numbers will be posted on the doors of the branches.  Please follow social distancing spaces on the floor and remember to wear your mask. 
Should you need to schedule an appointment you may fill out the contact form below.  One of our Member Experience Advisors will contact you shortly.
To find one of our shared branching partners, click here. 
ATMs
Surcharge-Free ATMs

Your PACU debit or credit card may be used at any of the over 1,600

surcharge-free ATMs

across North Carolina and 30,000

surcharge-free ATM

s across the country.
Beware of Scams and Fraud
During this uncertain time surrounding COVID-19, it is important to keep your mind free of fear and distraction. There are some people and companies out there trying to take advantage of the seriousness of this virus. Please be on guard when accessing links from emails and social media. Here are some tips from the Federal Trade Commission.
COVID-19 Economic Impact Payments have resulted in an increase in scams related to the Coronavirus pandemic. Click here to read the press release from the IRS for information on these payments and how to help protect yourself from fraudulent activity.  
Steps we have implemented to prevent the spread of COVID-19 include:
Use new pens for every interaction with members. 
Clean drive-thru tubes with disinfectant wipes after every use.  
Increase cleaning and sanitizing of work space and public areas.
Enforce social distancing in branches and offices.
Hold virtual meetings as needed.
Limit travel between branches and offices.
Encourage 14-day self-quarantine for those returning from travel before coming back to work.
Offer remote working as needed and ask employees to refrain from coming into the office if showing any symptoms of illness.
Other Resources
Login to Advantage Access Online
COVID-19 Economic Impact Payments Info
Why your money is safe at PACU
Help stop the spread of COVID-19 by utilizing Online/Mobile Banking.
Mobile Banking Tutorial Video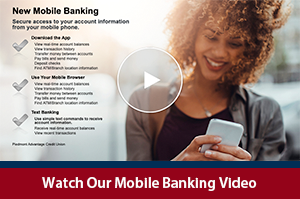 Online Banking Tutorial Video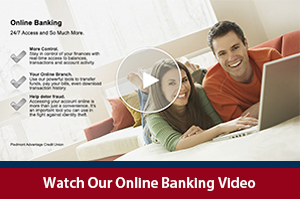 Bill Pay Tutorial Video 
Online Statements Tutorial Video